A Brief Note From Dan
Hey HSM,
This afternoon we're meeting at Lytham Rd for a community week. We'll have games, hangout time, and a meal together. Bring a friend!
Also, beginning October 24 we're starting Confirmation Capstone 2021. See more details, including registration, below.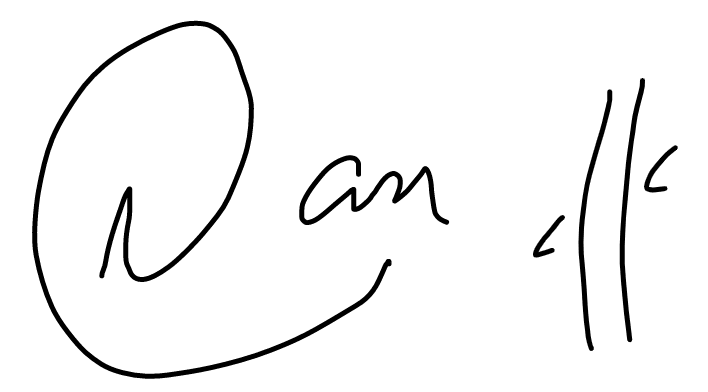 What We're Up To @ HSM
Small Groups
HSM small groups meet every other week in homes across the city. Our small groups are co-ed and led by our adult HSM volunteers. You are free to choose which group you would like to be a part of. HSM small groups are a place for students to check-in on each other, worship, read the Bible, and pray, and snack together. Small groups range in size, generally between 6-14 students.
If you would like to join a small group, please fill out the form below.
Small Group Series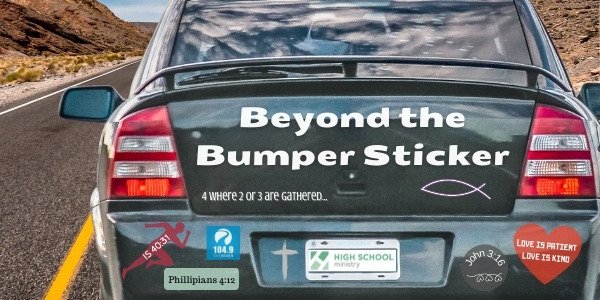 You can say a lot about yourself with a bumper sticker. You can communicate your interests, your hobbies, your sport or your favorite team, your politics, you can draw your family in stick figures. But as much as we can learn about each other through bumper stickers, these stickers don't tell the whole story about us.
Similarly, there are a number of famous Bible verses that get used frequently by Christians around the world. There's a good reason the verses are bumper sticker worthy: they're usually verses that say a whole lot in a few words. But, as helpful and quotable as these verses are, there's always more to know about those famous passages. In our Beyond the Bumper Sticker series, we are going to be looking at some of the most famous verses quoted from the Bible. We will explore why they are famous, and how reading them in context can help expand their meanings for us; allowing us to deepen our appreciation for them.
Our small groups meet every other week in homes around the city. If you'd like to join a small group, contact Dan Kidd at dkidd@ualc.org.

Summer Missions Interest Meeting
October 17 immediately following HSM (6:00 pm) at Lytham
Summer 2022 HSM will be on mission to bless and do Kingdom work! We will send a team to Chicago for an "Urban Adventure" mission through LeaderTreks. We are also considering a local mission for students to bless and serve our local neighbors in the Columbus area.
This meeting is for parents and students who would like to consider engaging in a mission near or far with our HSM community.

UALC celebrates this important season where students begin the adult life of following Jesus. Before beginning the Confirmation Capstone, please plan to attend at least one UALC retreat or camp and one UALC mission trip.
Delve deeper into the foundations of the Christian faith and learn practical ways to be a daily follower of Jesus. Parents and students attend the first and last sessions together, while the rest are for students only. Students can do Capstone anytime during 9th-12th grades.
Confirmation Capstone runs for 4 sessions and a retreat. Capstone runs October 24 - November 21. Most sessions will coincide with HSM at Lytham Rd.
Confirmation Retreat: November 5-7
Confirmation Service: November 21
There is no cost for this workshop.
HSM Calendar
o Aug 22 | HSM Fall Kickoff @ Lytham
o Aug 29 | HSM Small Groups begin
o Sep 5 | HSM @ Lytham
o Sep 12 | HSM Small Groups
o Sep 19 | HSM @ Lytham
o Sep 26 | HSM Small Groups
o Oct 3 | HSM @ Lytham
o Oct 10 | HSM Small Groups
o Oct 12 | Festa ESL Program Begins
o Oct 17 | HSM @ Lytham
o Oct 24 | HSM Small Groups + Confirmation Capstone @ Lytham
o Oct 31 | HSM @ Lytham + Confirmation Capstone @ Lytham
o Nov 5-7 | Confirmation Capstone Retreat
o Nov 7 | HSM Small Groups
o Nov 14 | HSM @ Lytham + Confirmation Capstone @ Lytham
o Nov 20 | Confirmation Capstone Rehearsal Dinner @ Mill Run
o Nov 21 | HSM Celebration of Confirmation @ Lytham
o Nov 28 | No HSM
o Dec 5 | HSM Small Groups
o Dec 12 | HSM @ Lytham
o Dec 19 | HSM Christmas Party
Serve Others with UALC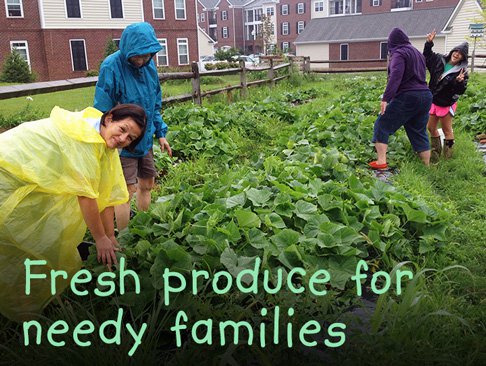 Our UALC Community Garden ministry needs help all week long. Our crops feed families in Hilliard, many of whom are involved in the ESL Program. Since we started the Community Garden, we have donated over 130,000 pounds of fresh produce to central Ohio families. God has blessed our garden and efforts abundantly. We show God's generosity by giving away more than 95% of what we grow. Our mission has always been to deliver Jesus' love by feeding the hungry, and the pandemic makes that particularly needful. Food banks are facing unprecedented demand, nationally and here in Ohio. Jesus has given us a tool to help—our garden—and we must follow His mandate to make the most of it.
Contact Irma Chon at 614-560-6190 to schedule a time to serve, or visit ualc.org/garden for more information.